Mass Card - Irish Pallottines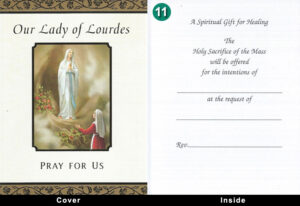 An Individual Mass will be offered for your specific intention, the mass will be celebrated by a member of the Irish Pallottine Community in Wyandotte. The following is a list of masses available:
Mass Offering for Deceased
Birthday Blessings
Birthday Blessings Mass Card
In Loving Memory
Mass of Remembrance
Our Lady of Lourdes
Special Intentions
Special Healing
Mass for the Repose of the Soul
You can purchase a special intention without a mass card for $10 or purchase special intention with a card ($13 in the USA and $15 outside the USA).
To personalize your order, please review the card options then purchase your choice through the PayPal secure button.
Purchase a Special Intention for Mass.  This option does not include a card.  Scroll down this page, below this section, to purchase a Mass Card.