Christmas Mass Bouquet - Irish Pallottines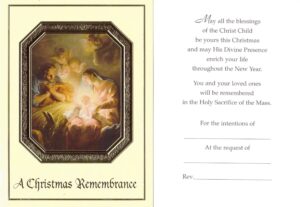 St. Vincent Pallotti (1795-1850) was a great believer in offering masses for Special Intentions.
This Christmas we invite you go offer Christmas Mass as your Christmas gift to your friends and family. Each mass will be celebrated by a member of the Irish Pallottine Community in Wyandotte.
To personalize your order, please review the card, include your intentions and then purchase through the PayPal secure button.
Choose between sending a Bouquet with or without a card.
The cost is $9.00 without a card.
The cost is $13.00 with a card.  Shipping and handling is included to cards mailed within the U.S.A.
If purchasing multiple cards, separate names with a comma in the text field below.